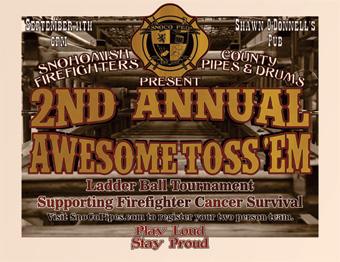 Join us for the "2nd Annual Awesome Toss 'Em" Charity Event at Shawn O'Donnell's Irish Pub in Everett on 09/11/2014.

Buy your two person team ticket in our online store.

Each team ticket buys each member a cool pipe band shirt and a chance to compete for great prizes!

Proceeds benefit the Firefighter Cancer Support Network.

Come remember those lost on 09/11/2001 and help support a great charity!

There will be special pub fare and drink specials in the designated beer garden/play zone.

Click here for a high quality printable flier.

*Awesome Toss "Em is a

"ladder ball" tournament.

Each team is guaranteed a minimum of two games. The tournament is elimination style play.
Have you ever thought about joining the band?




-New Piper/Drummer groups will start on October 3rd, 2014

-Email scffpd@snocopipes.com if you are interested

-Our membership has been extended to include Law Enforcment officers, and retired Firefighters/Law Enforcement Officers who served outside of Snohomish, Island or Skagit County but have retired in our area.

-More info about becoming a member can be found in our "Join Us" Section